Otrivin Advance Nasal Spray
Otrivin Advance Nasal Spray with its metered dose technology provides instant1 relief from blocked nose in just 1 spray6. It starts action in 25 seconds2,3 and provides relief for up to 12 hours2,3.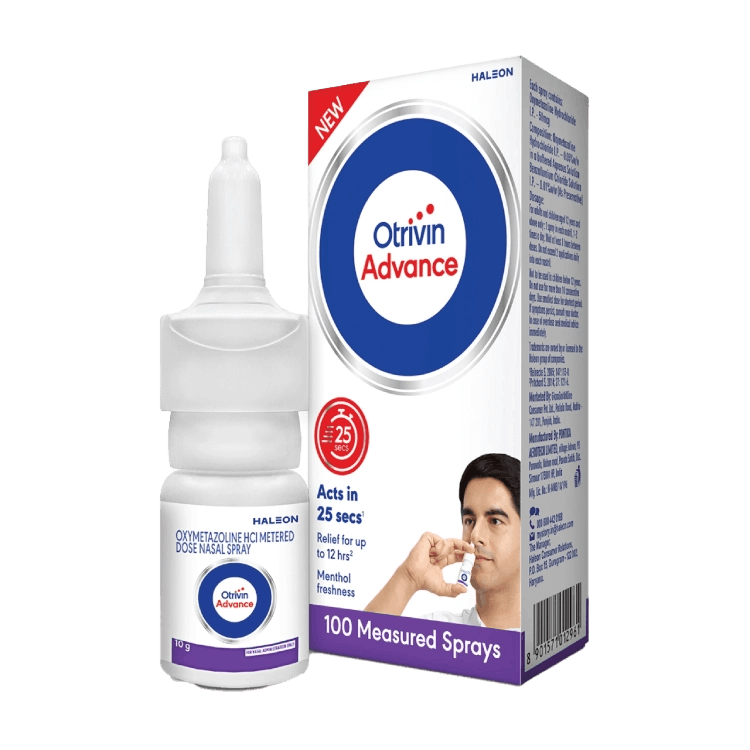 Suffering from a blocked nose? Otrivin Advance nasal spray provides instant relief1 from blocked nose in just 25 seconds2. Otrivin Advance with its metered dose technology provides better control7, better comfort7, and better coverage8. Otrivin Advance gives 100 accurate sprays and comes with menthol freshness. When suffering from nasal congestion, apply just 1 spray6 of Otrivin Advance directly inside the nose, which helps in quickly opening the nasal passages to help relieve congestion. Thus, allowing you to breathe normally.
Otrivin Advance continues to act for up to 12 hours2,3 - providing quick and long-lasting relief from nasal congestion.
Otrivin Advance helps to open the nasal passages by reducing the size of the swollen blood vessels in nasal mucosal lining returning them to their normal size and restoring normal breathing. This helps to quickly relieve a congested nose and any excessive nasal secretions. This in turn helps you to breathe better.

Before first use, the pump should be sprayed several times into the air until an even spray is produced. If the spray has not been used for a few days or there is not an even spray, the initial process should be repeated.

Using Otrivin Advance is easy and convenient. Just follow these simple steps:

Clear the nose.
Hold the bottle upright with thumb under base and nozzle between two fingers.
Lean your head forward slightly and insert the nozzle into a nostril.
Spray and breathe in gently through the nose at the same time.
Clean and dry the nozzle before replacing back the cap right after use.

To avoid possible spread of infection, the product should only be used by one person.

Be careful not to spray in the eyes.

If the full spray is not administered, the dose should not be repeated.

The recommended dose for Otrivin Advance is:

Adults and Children aged 12 years or more: 1 spray into each nostril, 1-2 times a day. Wait atleast 8 hours between doses. Do not exceed 2 applications daily into each nostril.

Caution: Otrivin Advance should not be used for more than 10 consecutive days. If symptoms persist, consult your doctor. Be careful not to spray in the eyes.

For nasal administration only. Do not exceed the stated dose. The lowest amount necessary to achieve benefit should be used for the shortest duration of treatment.

Not recommended for use in children aged 6 to 11 years, except on the advice of a doctor. Do not use in children below 6 years of age.

When to use it

Otrivin Advance is prescribed as a nasal decongestant when you have a blocked nose due to cold, making breathing difficult. It can also be used to relieve nasal congestion caused due to a sinus infection, allergic rhinitis, or hay fever.

Qualitative & Quantitative Composition Each spray contains: Oxymetazoline Hydrochloride I.P. – 50 mcg

Composition: Oxymetazoline Hydrochloride I.P. – 0.05%w/w in a buffered Aqueous Solution Benzalkonium Chloride Solution I.P. – 0.01%w/w (As Preservative)

Contra-indications Otrivin Advance spray should not be used if:

If the child is below 6 years of age
You are allergic to oxymetazoline or any other ingredients of this medicine.
You have undergone recent trans-nasal surgery (brain surgery where the operation was carried out through the nose or mouth)
You are suffering from narrow angle glaucoma (increased pressure in eyes)
You have chronic nasal inflammation with very dry nasal passages (rhinitis sicca or atrophic rhinitis)

Precautions Check with your doctor before using Otrivin Advance if:

You have high blood pressure,
You suffer from a heart disease,
You have an overactive thyroid gland (hyperthyroidism),
You suffer from diabetes,
You have a rare tumour of the adrenal gland that produces high amounts of adrenaline and noradrenaline (phaeochromocytoma),
You have an enlarged prostate gland (prostatic hypertrophy),

You are taking certain medicines used for the treatment of depression. These medicines are:

- monoamine oxidase inhibitors (MAOI): do NOT use this product if you are taking or have been taking MAOIs within the last 14 days,

- tri-cyclic and tetra-cyclic antidepressants.

If you are pregnant or breast-feeding.

Like other products for the relief of blocked nose, this product may give rise to sleep disturbances, dizziness, tremor in very sensitive patients. Consult your doctor if such signs prove troublesome.

Like other nasal decongestants, this product should not be used for more than 10 consecutive days. If symptoms do not improve or worsen, consult a doctor. Prolonged or excessive use may cause stuffiness in the nose to return or worsen.

Stop using this product and seek immediate medical attention if you experience sudden severe headache. Do not exceed the recommended dose. If you forget to use Otrivin Advance, do not take a double dose to make up for a forgotten one. Keep out of the reach and sight of children.

Side effects:

Otrivin Advance when used in the recommended dose is usually well tolerated. However, like any other medicine, Otrivin Advance may have some unwanted effects on some people.

- Common side effects: nasal dryness and discomfort, sneezing. - Uncommon side effects: dry mouth, stomatitis, dry throat and irritation. - Rare side effects: Headache, insomnia, sedation, anxiety, irritability, nausea, hypertension, irregular heart rate, increased heart rate. - Very rare side effects: Restlessness, Somnolence, Fatigue.

Stop taking Otrivin Advance and tell your doctor immediately if you experience any of the above, because Otrivin Advance is not suitable in these circumstances.

For more product related information check: Otrivin Advance
References:
Basis rate of action vs orally administered medication.

Reinecke S & Tschaikin. Investigation of the Effect of Oxymetazoline on the Duration of Rhinitis. MMW-Fortschritte der Medizin Orginal Reports No III/2005; 147:113-8.

Pritchard S Glover M, et al. Effectiveness of 0.05% oxymetazoline nasal spray in the treatment of objective nasal congestion demonstrated to 12 h post- administration by magnetic resonance imaging. Pulmonary Pharmacology & Therapeutics 2014; 27: 121-6.

Otrivin Advance Product information leaflet

Global Datasheet Oxymetazoline Hydrochloride Version 3.0

Refer Pack for usage instructions.

Control and comfort on dosing control as compared to non-metered squeeze bottle formats with non-uniform droplet size distribution and plume geometry.

coverage of nasal mucosa as compared to non-metered squeeze bottle formats with non-uniform droplet size distribution and plume geometry.
Show all references
Close references